Introduction
In a world that seems to be constantly speeding up, many people find themselves longing for a simpler, more authentic way of life. For those living in rural areas or with a deep appreciation for the countryside, finding a partner who shares their values and lifestyle can be a challenge. This is where Muddy Matches steps in, offering a unique and tailored online dating experience for country-loving individuals. In this article, we will explore Muddy Matches, its history, features, and how it has become a beacon of hope for those seeking love in the great outdoors.
The Birth of Muddy Matches
Muddy Matches was founded in 2007 by sisters Lucy and Emma Reeves, who grew up on a working farm in Northamptonshire, England. Frustrated by the lack of dating options that catered to their rural lifestyle and values, they decided to create a platform that would connect like-minded people who shared their passion for the countryside.
The initial concept was simple yet revolutionary: to create a dating website specifically designed for individuals living in rural areas or those with a deep connection to the countryside. It was a platform where "muddy" individuals, as they affectionately call them, could find companionship, friendship, or even romance.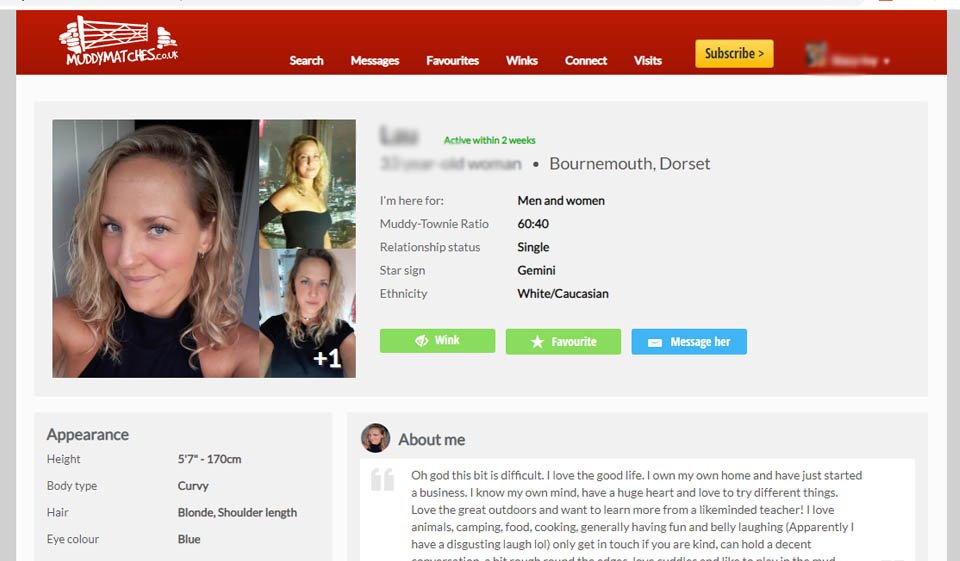 Features and User Experience
Muddy Matches distinguishes itself from mainstream dating platforms by offering a range of features tailored to its niche audience. Here are some key features that set it apart:
Detailed Profiles: Users are encouraged to create detailed profiles, showcasing not only their photos but also their interests, lifestyle, and what they're looking for in a partner. This helps members find compatible matches with shared values and interests.
Location-Based Matching: The platform considers geographical proximity as a key factor in matchmaking. Users can search for matches within a specific distance, making it easier for them to connect with potential partners who are nearby.
Interest Groups: Muddy Matches provides a space for members to join interest groups related to their hobbies and passions, such as equestrianism, farming, hiking, or countryside living. These groups foster a sense of community and help members connect over shared interests.
Date Ideas: The website offers a wealth of date ideas suitable for country-loving individuals, from horseback riding and hiking trails to cozy countryside pubs. This feature encourages members to plan memorable outings with their matches.
Safety and Privacy: Muddy Matches takes safety and privacy seriously. User profiles are manually reviewed, and the platform provides safety tips and guidelines for online dating. Members can also report any suspicious or inappropriate behavior.
Success Stories
Over the years, Muddy Matches has brought together countless couples who share a love for rural living. Here are a few success stories that highlight the platform's impact:
Sam and Emily: Sam, a farmer from Wales, and Emily, a veterinary nurse from Shropshire, met on Muddy Matches. They bonded over their shared love for animals and the countryside. Today, they run their own smallholding together, living their dream life in the countryside.
Tom and Laura: Tom, a landscape architect, and Laura, a botanist, both had a deep appreciation for the outdoors. They found each other on Muddy Matches and have since explored numerous hiking trails and botanical gardens together. Their shared passion for nature has strengthened their bond.
Ben and Sophie: Ben and Sophie were both passionate about equestrianism and horses. They connected on Muddy Matches and quickly realized they had a special connection. Today, they own a stable together and compete in horse shows as a team.
The Impact of Muddy Matches
Muddy Matches has not only played a crucial role in helping country-loving individuals find love but has also contributed to strengthening rural communities and promoting a more sustainable way of life. Here are some ways in which the platform has made a positive impact:
Community Building: Muddy Matches has created a sense of community among its members. The interest groups and forums allow individuals to connect, share experiences, and support one another in their rural endeavors.
Preserving Rural Traditions: By bringing together people who value the countryside and rural traditions, Muddy Matches has helped preserve and promote these important aspects of culture. This includes farming practices, outdoor hobbies, and local businesses.
Reducing Urban Migration: For some users, Muddy Matches has played a role in encouraging them to stay or return to rural areas rather than migrate to urban centers in search of love or career opportunities. This contributes to the sustainability of rural communities.
Environmentally Conscious Dating: Many Muddy Matches members are environmentally conscious and practice sustainable living. By connecting like-minded individuals, the platform indirectly promotes eco-friendly lifestyles and values.
Challenges and Future Prospects
While Muddy Matches has been successful in connecting country hearts, it has not been without its challenges. One ongoing issue is the struggle to maintain a balanced gender ratio on the platform, as rural areas tend to have more male residents than females. Additionally, the platform faces competition from mainstream dating apps that are continuously expanding their user base.
Looking to the future, Muddy Matches has the potential to further grow and diversify its user base. Expanding its reach to other countries with a rural population could open up new opportunities for growth. Additionally, incorporating more advanced matchmaking algorithms and artificial intelligence could enhance the user experience and improve match quality.
Conclusion
Muddy Matches has emerged as a beacon of hope for those seeking love in rural areas and for individuals who have a deep connection to the countryside. Founded by sisters Lucy and Emma Reeves, this unique dating platform has brought together countless couples who share a love for the great outdoors and rural living. With its tailored features, commitment to safety, and a sense of community, Muddy Matches has not only helped people find love but has also contributed to the preservation of rural traditions and the promotion of sustainable living. As it continues to evolve and grow, Muddy Matches remains a testament to the power of niche dating platforms in connecting like-minded individuals in our increasingly interconnected world.