Introduction
In the vast world of online dating, niche platforms have emerged to cater to every imaginable interest and passion. One such unique platform is Mouse Mingle, a dating website designed exclusively for Disney fans. This niche dating site has gained attention for bringing together people who share a deep love for all things Disney, and in this article, we will explore the world of Mouse Mingle, its origins, features, and the magical connections it has helped create.
The Birth of Mouse Mingle
Mouse Mingle was founded in 2015 by Dave Tavres, a former Disneyland Railroad engineer with a lifelong passion for all things Disney. Tavres' inspiration for creating the platform came from his own experiences as a Disney fan struggling to find a partner who shared his enthusiasm for the magical world of Disney. He realized that while there were countless dating websites catering to specific interests, there was a gap when it came to Disney fans.
Tavres envisioned a platform where Disney enthusiasts could connect, share their love for Disney, and potentially find love themselves. And thus, Mouse Mingle was born.
Features of Mouse Mingle
Mouse Mingle is not your typical dating website; it's a Disney-themed online community that aims to foster connections between people who have a deep appreciation for Disney culture. Here are some of the key features that make Mouse Mingle stand out:
Disney-Centric Profiles: Users on Mouse Mingle create profiles that revolve around their Disney interests. You can add details about your favorite Disney movies, characters, theme park experiences, and even your favorite Disney quotes. The idea is to provide a comprehensive picture of your Disney fandom.
Disney Matching Algorithm: The website employs a unique algorithm that pairs users based on their Disney preferences and interests. This algorithm helps ensure that users are matched with like-minded individuals who share their passion for Disney.
Disney Events and News: Mouse Mingle provides its members with the latest Disney news and information about upcoming Disney-related events. This feature helps keep the Disney magic alive and offers users opportunities to connect over shared events.
User-Generated Disney Content: Users can upload photos and share stories from their Disney adventures, whether it's a trip to a Disney theme park or a collection of Disney memorabilia. This allows members to bond over their shared experiences.
Video Messaging: Mouse Mingle offers video messaging capabilities, allowing users to interact more intimately and get to know each other better before deciding to meet in person.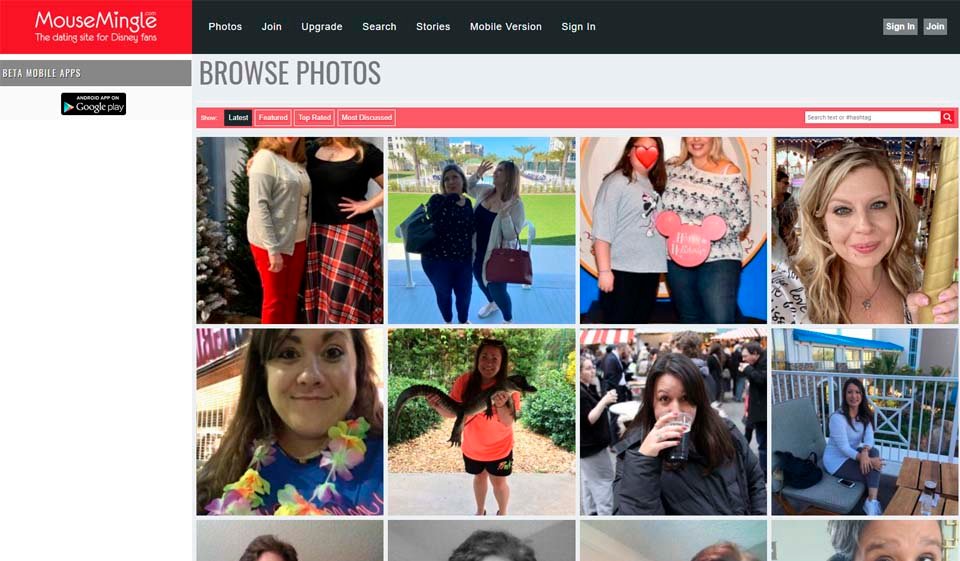 The Magic of Finding Love Through Disney
While the primary goal of Mouse Mingle is to help Disney fans find love, it's not just about romantic connections. Many users have reported that the platform has led to meaningful friendships and connections with people who share their passion. Here are some heartwarming stories of Disney enthusiasts finding love through Mouse Mingle:
Sarah and Mark: Sarah and Mark, both avid Disney fans, met on Mouse Mingle and bonded over their shared love for classic Disney movies. Their conversations quickly transitioned from discussing their favorite characters to planning a Disney-themed wedding. Today, they are happily married, and their Disney-inspired wedding was a magical event filled with love and nostalgia.
Rachel and Eric: Rachel and Eric connected on Mouse Mingle due to their mutual fascination with Disney history and trivia. They spent months exchanging Disney-related trivia questions and challenging each other's knowledge. This playful interaction turned into a deep connection, and they eventually decided to meet in person. Their love story continues to be a Disney adventure filled with joy and romance.
Heather and James: Heather and James, both dedicated annual passholders at Disneyland, found each other on Mouse Mingle. They bonded over their shared goal of visiting every Disney park in the world. Their journey to explore Disney magic around the globe has become their shared dream, and their love story continues to unfold with every new Disney park they visit.
The Community Aspect of Mouse Mingle
One of the most remarkable aspects of Mouse Mingle is its sense of community. Beyond its matchmaking features, Mouse Mingle has created a space where Disney fans can connect, share their passions, and build friendships. The platform hosts forums and discussion boards where members can discuss everything Disney-related, from movie theories to theme park tips. This sense of belonging and shared enthusiasm for Disney creates a unique and welcoming environment.
The Role of Disney in Modern Dating
Mouse Mingle's success highlights the role of shared interests in modern dating. While common interests have always been important in forming connections, niche dating platforms like Mouse Mingle take this concept to a new level. They recognize that shared passions can be a powerful catalyst for building meaningful relationships.
In a world where online dating can sometimes feel overwhelming and superficial, platforms like Mouse Mingle offer a refreshing alternative. They allow people to connect on a deeper level right from the start, thanks to their shared passion. This can lead to more authentic and fulfilling connections.
Conclusion
Mouse Mingle is a testament to the power of niche dating platforms and the enduring magic of Disney. It has brought together Disney fans from all walks of life, helping them form romantic relationships, friendships, and connections that celebrate their shared love for Disney culture.
Whether you're looking for love, friendship, or simply a place to discuss your favorite Disney moments, Mouse Mingle offers a welcoming online community where Disney magic truly comes to life. So, if you're a Disney enthusiast looking for love or companionship, why not give Mouse Mingle a try? After all, as Walt Disney himself once said, "All our dreams can come true if we have the courage to pursue them."