Introduction
In today's digital age, online dating has become an increasingly popular way for people to connect and find meaningful relationships. One platform that has gained attention in recent years is Mingle2.com. In this comprehensive review, we will delve into the world of Mingle2.com, exploring its features, user experience, safety measures, and more, to help you decide if it's the right choice for your online dating journey.
Chapter 1: Getting Started with Mingle2.com
Mingle2.com is an online dating platform that aims to simplify the process of finding love, companionship, or casual relationships. One of its most appealing features is that it's completely free to use, which makes it accessible to a wide range of users. Signing up is a straightforward process, requiring basic information like your email address, age, and location. Once registered, users can create their profiles, add photos, and begin browsing other members' profiles.
Chapter 2: User Interface and Design
The user interface and design of Mingle2.com are clean and user-friendly. Navigating the platform is relatively easy, with a simple layout that allows users to access the main features quickly. The homepage displays a selection of profiles, making it easy to start browsing potential matches. The website's design is not overly complex, which can be an advantage for users who prefer a straightforward and uncluttered dating experience.
Chapter 3: Features and Functionality
Mingle2.com offers a range of features designed to help users connect with others and find potential matches:
Matchmaking Algorithm: com employs an algorithm that suggests potential matches based on the information provided in your profile and your browsing history.
Search Filters: Users can apply various search filters to narrow down their search criteria, such as age, location, and interests.
Messaging: Communication is a vital aspect of online dating, and Mingle2.com offers a messaging feature that allows users to interact with their matches.
Matching Games: The platform includes matching games that provide an entertaining way to discover new profiles and potential matches.
Mobile App: Mingle2.com offers a mobile app for both Android and iOS devices, allowing users to stay connected while on the go.
Community Forums: Mingle2.com provides community forums where members can discuss various topics, share dating advice, and connect with others in a more social context.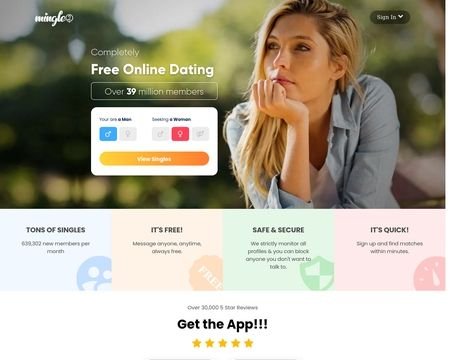 Chapter 4: User Experience and Community
The overall user experience on Mingle2.com is positive. The platform has a diverse user base, which means you can find people from different backgrounds and with various interests. However, like any dating site, the quality of your experience largely depends on the effort you put into creating a compelling profile and engaging with other members.
Mingle2.com has an active community, and members often participate in forums and discussions. This social aspect can be appealing to those looking to connect with others beyond the dating aspect. Additionally, the platform's emphasis on being free attracts a wide range of users, from those seeking serious relationships to those looking for casual encounters.
Chapter 5: Safety and Security
Online safety is a paramount concern when it comes to online dating. Mingle2.com takes steps to ensure a secure environment for its users. These safety measures include:
Profile Verification: Users can verify their profiles by connecting their com accounts to their Facebook profiles or providing a phone number. This helps reduce the number of fake profiles.
Report and Block Features: com provides tools for users to report and block other members who engage in inappropriate or suspicious behavior.
Safety Tips: The platform offers safety tips and guidelines for users to follow, promoting a safer online dating experience.
While Mingle2.com has these safety measures in place, it's essential for users to exercise caution and practice online safety themselves.
Chapter 6: Pros and Cons
Let's summarize the pros and cons of using Mingle2.com:
Pros:
Free to Use: com offers a wide range of features without the need for a paid subscription, making it accessible to many users.
Simple and User-Friendly: The platform's straightforward design and easy-to-use features make it suitable for both beginners and experienced online daters.
Diverse User Base: Mingle2.com has a diverse and active user base, increasing the chances of finding compatible matches.
Cons:
Limited Features for Free Users: While Mingle2.com is free to use, some advanced features may require a paid subscription.
Inevitable Fake Profiles: Like many dating platforms, Mingle2.com is not immune to fake profiles, so users should exercise caution.
Chapter 7: Conclusion
In conclusion, Mingle2.com is a free online dating platform that offers a straightforward and user-friendly experience. Its range of features, active community, and commitment to user safety make it a viable option for those seeking to connect with others online. While there are some limitations, such as the presence of fake profiles and the need for a paid subscription for certain features, Mingle2.com provides a valuable resource for those looking to explore the world of online dating without breaking the bank.
Ultimately, whether Mingle2.com is the right choice for you depends on your specific dating goals and preferences. As with any online dating platform, it's important to approach it with a combination of enthusiasm and caution, keeping your safety and well-being a top priority while seeking meaningful connections.