Introduction
In today's digital age, online dating has become a prevalent way for individuals to find love and companionship. Among the numerous niche dating websites catering to various interests and demographics, MilitaryCupid stands out as a platform designed specifically for military personnel and those who are interested in dating them. With a focus on fostering meaningful connections within the military community, MilitaryCupid has gained popularity as a trusted platform for finding love and companionship among military singles worldwide.
The Significance of Military Dating Websites
Military life is unique in many ways, with its own set of challenges and demands that can make dating and maintaining relationships more complicated. The unpredictability of deployments, frequent relocations, and the emotional toll of separation can create obstacles for military personnel when it comes to finding and maintaining meaningful relationships.
This is where military dating websites like MilitaryCupid come into play. They provide a dedicated space for military singles to connect with like-minded individuals who understand the challenges and sacrifices of military life. These platforms offer a sense of community and support that can be challenging to find in the civilian dating world.
The History of MilitaryCupid
MilitaryCupid is part of the Cupid Media network, a well-established online dating company that operates a wide range of niche dating websites. Launched in 2006, MilitaryCupid was created to address the unique needs and desires of military singles and those who are interested in dating them. Since its inception, the website has grown significantly and gained a reputation for connecting military personnel and civilians interested in dating them.
Key Features of MilitaryCupid
MilitaryCupid offers a range of features and functionalities designed to facilitate meaningful connections among its users. Some of the key features of the platform include:
Profile Creation: Users can create detailed profiles that highlight their interests, hobbies, and what they're looking for in a relationship. Members are encouraged to upload photos that showcase their personality and military involvement.
Advanced Search Options: The platform provides robust search filters that allow users to narrow down their search criteria, making it easier to find compatible matches. Users can filter by age, location, branch of service, and more.
Messaging and Communication: MilitaryCupid offers various communication tools, including messaging, chat rooms, and even video chat, enabling members to get to know each other better and establish a connection.
Safety and Security: The website places a strong emphasis on user safety, employing various security measures to protect members' personal information and ensure a safe dating environment.
Mobile App: MilitaryCupid offers a mobile app for both Android and iOS devices, allowing users to access the platform on the go.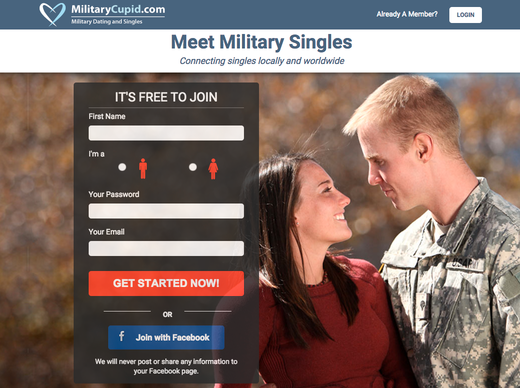 Who Uses MilitaryCupid?
MilitaryCupid caters to a diverse group of individuals, including:
Active-Duty Military Personnel: Service members from various branches of the military, such as the Army, Navy, Air Force, Marines, and Coast Guard, use the platform to connect with others who understand the demands of military life.
Veterans: MilitaryCupid is also a space where veterans can find companionship and build relationships with like-minded individuals who appreciate their service.
Civilians: The platform is open to civilians who have an interest in dating military personnel and want to connect with them.
Military Enthusiasts: Some users may not have a direct connection to the military but have a deep respect and admiration for those who serve. MilitaryCupid allows them to connect with military singles and share their interests.
Success Stories
MilitaryCupid has played a pivotal role in bringing together countless military couples and creating success stories. These stories showcase the platform's ability to foster genuine connections and relationships among its users. Here are a couple of examples:
The Long-Distance Love Story: Sarah, a civilian, and John, a Navy sailor, met on MilitaryCupid while John was stationed overseas. Despite the challenges of a long-distance relationship, they communicated regularly through the platform's messaging and video chat features. After several months of getting to know each other, John returned home, and the two eventually got married. They credit MilitaryCupid with helping them find love in an unlikely situation.
A Veteran's Second Chance: Mark, a retired Army veteran, struggled to find companionship after leaving the military. He joined MilitaryCupid to connect with others who shared his military background. Through the platform, he met Lisa, a fellow veteran, and their shared experiences and interests brought them closer. They're now happily married and enjoying their post-military life together.
Challenges and Considerations
While MilitaryCupid offers a unique and valuable service, it's essential to consider some potential challenges and concerns associated with online dating in the military community:
Scammers: Like any online dating platform, MilitaryCupid isn't immune to scammers who may try to take advantage of unsuspecting users. It's crucial for members to remain vigilant and report any suspicious activity to the platform's support team.
Long-Distance Relationships: Many military relationships involve long-distance dating due to deployments and relocations. While some couples thrive in these situations, they can be challenging and require a strong commitment to communication and trust.
Privacy and Security: Protecting personal information is crucial in online dating. Users should exercise caution when sharing sensitive details with potential matches and use MilitaryCupid's security features to their advantage.
Conclusion
MilitaryCupid serves as a valuable platform for military personnel and those interested in dating them. By providing a space where like-minded individuals can connect, the website has successfully facilitated countless meaningful relationships and marriages within the military community. Whether you're an active-duty service member, a veteran, or a civilian with an interest in military life, MilitaryCupid offers a safe and supportive environment to explore new connections and find love. It stands as a testament to the power of online dating to bridge the gap between individuals from diverse backgrounds and experiences, ultimately helping them build lasting relationships.