Introduction
In today's fast-paced and technology-driven world, finding meaningful connections can be challenging. The rise of dating apps has revolutionized the way people meet, but it has also brought along with it a host of issues like superficial connections and ghosting. In response to this, a new breed of dating apps has emerged, focusing on a more holistic and mindful approach to dating. MeetMindful is one such platform that aims to create a space where people can connect on a deeper level, emphasizing mindfulness, wellness, and meaningful connections.
The Concept of MeetMindful
MeetMindful was founded in 2014 by Amy Baglan with the vision of helping individuals find love, happiness, and connection while prioritizing their personal growth and well-being. Unlike traditional dating apps that primarily focus on superficial aspects like physical appearance or casual encounters, MeetMindful encourages its users to prioritize mindfulness, wellness, and self-awareness.
Mindful dating, as the name suggests, is about approaching dating with a more conscious and intentional mindset. It involves being present in the moment, practicing self-awareness, and seeking connections with people who share your values and interests. MeetMindful provides a platform for individuals who are looking for more meaningful relationships and want to connect with like-minded individuals who are also on a path of personal growth and self-discovery.
Key Features of MeetMindful
Mindful Profiles: MeetMindful profiles are designed to go beyond just pictures and basic information. Users are encouraged to share their interests, values, and wellness practices. This allows individuals to get to know each other on a deeper level right from the start.
Mindful Messaging: The messaging system on MeetMindful encourages meaningful conversations. Instead of generic "Hey" messages, users are prompted to start conversations based on shared interests and values, promoting more authentic and engaging interactions.
Mindful Connections: MeetMindful offers a range of filters and preferences that help users find like-minded individuals. You can filter potential matches based on criteria such as mindfulness practices, fitness activities, dietary preferences, and more.
Mindful Community: MeetMindful also fosters a sense of community by offering articles, resources, and events related to mindfulness, wellness, and personal growth. This allows users to not only find potential romantic partners but also to connect with others who share their interests and values.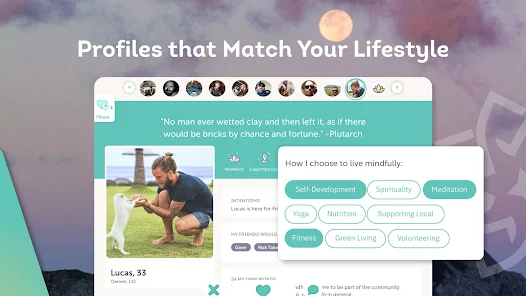 The Benefits of Mindful Dating
Authentic Connections: Mindful dating encourages individuals to be themselves and connect with others who appreciate their authenticity. This leads to more genuine and fulfilling relationships.
Shared Values: By prioritizing shared values and interests, MeetMindful helps users find partners who are aligned with their life goals and beliefs. This foundation can lead to long-lasting and meaningful connections.
Personal Growth: Mindful dating isn't just about finding a partner; it's also about personal growth and self-discovery. Users can learn more about themselves and their preferences through the platform.
Reduced Superficiality: MeetMindful's focus on mindfulness and wellness reduces the emphasis on physical appearance and superficial attributes, creating a more inclusive and accepting dating environment.
Success Stories
MeetMindful has garnered a loyal user base over the years, and many individuals have found love and meaningful connections through the platform. Here are a couple of success stories that highlight the positive impact of mindful dating:
Sarah and Mark: Sarah and Mark both joined MeetMindful with a strong interest in yoga and meditation. They connected over their shared mindfulness practices and soon realized they had similar values when it came to healthy living and personal growth. Their connection deepened over time, and they are now happily married, living a life filled with mindfulness and love.
David and Emily: David and Emily were tired of the superficial conversations they encountered on other dating apps. When they discovered MeetMindful, they were thrilled to find a platform that encouraged meaningful conversations. They bonded over their love for nature and outdoor activities and quickly formed a strong connection. Today, they enjoy hiking, meditating, and practicing yoga together as a couple.
Privacy and Safety
MeetMindful takes privacy and safety seriously. The platform employs strict measures to protect user data and ensure a safe online dating experience. Users can control what information they share on their profiles and who they choose to connect with. Additionally, MeetMindful has a support team that actively monitors the platform to prevent any inappropriate behavior or harassment.
Conclusion
In a world where digital dating has become the norm, MeetMindful offers a refreshing alternative by focusing on mindfulness, wellness, and meaningful connections. It provides a platform for individuals who are looking for more than just casual encounters and are eager to connect with like-minded people on a deeper level.
While it may not be for everyone, MeetMindful has successfully created a community of individuals who value personal growth, authenticity, and shared values in their search for love and connection. Whether you're a seasoned dater or someone new to the world of online dating, MeetMindful offers a unique and mindful approach to finding meaningful relationships in a fast-paced world.